I DECLARE WORLD PEACE

Peace Quotes
I dream of giving birth to a child who will ask, "Mother, what was war?"
- Eve Merriam
In the course of history, there comes a time when humanity is called to shift to a new level of consciousness, to reach a higher moral ground. A time when we have to shed our fear and give hope to each other. That time is now.
- Wangari Maathai
Better than a thousand hollow words is one word that brings peace.
- Buddha (560-483 B.C.)
"Your ordinary acts of love and hope point to the extraordinary promise that every human life is of inestimable value."
- Desmond Tutu
If we are peaceful, if we are happy, we can smile and blossom like a flower, and everyone in our family, our entire society, will benefit from our peace.
- Thich Nhat Hanh
Peace is not merely a distant goal that we seek, but a means by which we arrive at that goal.
- Martin Luther King, Jr.
Peace is a daily, a weekly, a monthly process, gradually changing opinions, slowly eroding old barriers, quietly building new structures.
- John F. Kennedy
We look forward to the time when the Power of Love will replace the Love of Power. Then will our world know the blessings of peace.
- William Gladstone
I will write peace on your wings and you will fly all over the world.
-Sadako Sasaki
No act of kindness, no matter how small, is ever wasted.
- Aesop
"Every government has as much of a duty to avoid war as a ship's captain has to avoid a shipwreck."
- Guy de Maupassant
No pessimist ever discovered the secret of the stars, or sailed to an uncharted land, or opened a new doorway for the human spirit.
- Helen Keller
Imagine all the people living life in peace. You may say I'm a dreamer, but I'm not the only one. I hope someday you'll join us, and the world will be as one.
- John Lennon
I was once asked why I don't participate in anti-war demonstrations. I said that I will never do that, but as soon as you have a pro-peace rally, I'll be there.
- Mother Teresa
Most people see things as they are and ask why... i dream things as they could be and i ask why not.
- George Bernard Shaw
Thousands of candles can be lighted from a single candle, and the life of the candle will not be shortened. Happiness never decreases by being shared.
- Buddha
In the final analysis, our most basic common link is that we all inhabit this small planet. We all breathe the same air. We all cherish our children's future. And we are all mortal.
- John F. Kennedy
Become a possibilitarian. No matter how dark things seem to be or actually are, raise your sights and see possibilities -- always see them, for they're always there.
― Norman Vincent Peale
"Recognize the human race as one"
- Guru Gobind Singh
"The Governments of the States Parties to this Constitution on behalf of their peoples declare: That since wars begin in the minds of men, it is in the minds of men that the defences of peace must be constructed"
- UNESCO Constitution
Dream of Peace. Live Peace. Be Peace.
I Declare World Peace.
"You can no more win a war than you can win an earthquake"
- Jeannette Rankin
Music in the soul can be heard by the universe.
- Lao Tzu
Every great dream begins with a dreamer. Always remember, you have within you the strength, the patience, and the passion to reach for the stars to change the world.
- Harriet Tubman
Let us examine our attitude toward peace itself. Too many of us think it is impossible. Too many think it unreal. But that is a dangerous, defeatist belief. It leads to the conclusion that war is inevitable, that mankind is doomed, that we are gripped by forces we cannot control. We need not accept that view. Our problems are manmade; therefore they can be solved by man. And man can be as big as be wants. No problem of human destiny is beyond human beings.
- John F. Kennedy, June 10, 1963
Declare it. Just the same way we declare war. That is how we will have peace... we just need to declare it.
― John Lennon
The best soldier does not attack. The superior fighter succeeds without violence. The greatest conqueror wins without struggle. The most successful manager leads without dictating. This is intelligent non aggressiveness.
- Lao Tse (Lao Tzu)
Reality is created by the mind, we can change our reality by changing our mind.
Plato (c.427 - 347 BC)
"You are as great as the cause you serve, and as young as your dreams."
-Shimon Peres
Establishing lasting peace is the work of education; all politics can do is keep us out of war.
- Maria Montessori
Our goal must be--not peace in our time--but peace for all time.
- Harry Truman
HOW YOU CAN EFFORTLESSLY PARTICIPATE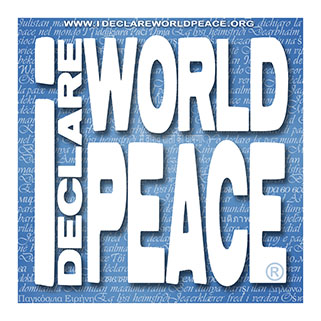 Please post and tweet the affirmation "I Declare World Peace" on your favorite social media site from time to time. Every time you see the tweet "I Declare World Peace", or our hashtag "#IDWP", please retweet (RT) it. It will soon become like popcorn popping all over the world.
We also encourage everyone to make an I Declare World Peace video. Examples to guide you are here: IDWP videos.
Please visit www.facebook.com/declarepeace and "Like" the page. Share with your friends. If you would like to promote this web site, please do so. We are happy to provide a free link to your appropriate, lawful business or entity on our Wall of Support page.
It requires no reciprocity. Just send us a message on our Facebook page and provide your URL; we will do the rest. Help us create the largest art installation in the history of the world, installed, for the first time ever, in the consciousness of humanity. Help us demonstrate the power of collective intention.
Please come back from time to time. The official I Declare World Peace hashtag is #IDWP
Above, our trademarked logo for non-commercial, display purposes only, to download: IDWP Display Logo.