I DECLARE WORLD PEACE
in World Languages
I Declare World Peace in World Languages - IN YOUR LANGUAGE:
Please help us translate I Declare World Peace into your native language. We have some translations derived from translation software with input from some native speakers. We understand there may be more than one way to express the affirmation. Please enjoy. All translation errors are ours alone. Thank you.
To see the name of the language represented below, please move your mouse, or position your cursor over the particular foreign version of "I Declare World Peace" that interests you.

Ek vertel wereld vrede
DEKLAROJ PAQE NË BOTË
أعلن السلام في العالم
Я ЗАЯЎЛЯЮ, МІРУ ВА ЎСІМ СВЕЦЕ
Izjavljujem Svjetski Mir
Декларирам, световен мир
Declaro la pau mundial
我宣布世界和平
Vyhlašuji světový mír
Jeg erklærer verdensfred
من اعلان صلح میکنم
Ik kondig wereld vrede aan
Mi deklaras la mondan pacon
KINNITAN MAAILMA RAHU
من اعلان صلح میکنم
AKO AY NAGPAPAHAYAG NG PANDAIGDIGANG KAPAYAPAAN
Julistan Maailmanrauhan
Je déclare la paix mondiale

Dearbhaím síocháin domhanda
Ich erklaere Weltfrieden!
Δηλώνω Παγκόσμια Ειρήνη
Mwen deklare lapè mondyal
אני מכריז על שלום עולמי
मैं विश्व शांति की घोषणा कर रहा हूँ
KIJELENTEM A VILÁGBÉKÉT
Ég lýsi heimsfriði
Adu gbeyane uche ebo-ebo ojane ile
Saya mengisytiharkan keamanan dunia
Io dichiaro la pace nel mondo
私は世界平和を宣言します
Magninou kedega yo lanhezie
Sabyan kung Paum kng Yatu
나는 세계 평화를 선언

Es apliecinu mieru pasaulē
Aš pareiškiu taiką visame pasaulyje
Изјавувам светски мир
Aku Perisytiharan Keamanan Dunia
I Tiddikjara Paċi Dinja
Ngamma a yiteuh
म विश्व शान्ति घोषणा गर्दछु
Jeg erklærer fred i verden
من اعلام صلح جهان
ਮੈਂ ਜਗ ਵਿਚ ਅਮਨ ਦੀ ਘੋਸ਼ਨਾ ਕਰਦਾ ਹਾਂ
OŚWIADCZAM POKOJU NA ŚWIECIE
EU DECLARO PAZ MUNDIAL
T'IQSIMUYUPAQ QHISPICHAYTA QHAPARII N
Declar Pace Mondială
Я ОБЪЯВЛЯЮ МИР ВО ВСЕМ МИРЕ
संसारा शांति घोशमी
Изјављујем светског мира
Maglasa aku Katilingkal Dunya
Vyhlasujem svetový mier
Yo declaro la paz mundial
Jag Deklarerar Världsfred
Mimi Declare Amani Duniani
நான் உலக அமைதி அறிவிக்கிறேன்
ผมประกาศสันติภาพของโลก
Ben dünya barışı ilan
Я оголошую мир у всьому світі
Tôi tuyên bố hòa bình thế giới
Yr wyf yn Datgan Heddwch Byd
איך דערקלערן וועלט שלום
Mo pàṣẹ àlàáfíà fún gbogbo àgbáyé
Sao-ek iti Talna 'toy Lubong
·· -·· · -·-· ·-·· ·- ·-· · ·-- --- ·-· ·-·· -·· ·--· · ·- -·-· ·
HOW YOU CAN PARTICIPATE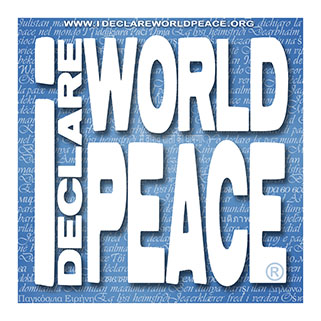 Please post and tweet the affirmation "I Declare World Peace" on your favorite social media site from time to time. Every time you see the tweet "I Declare World Peace", or our hashtag "#IDWP", please retweet (RT) it. It will soon become like popcorn popping all over the world.
We also encourage everyone to make an I Declare World Peace video. Examples to guide you are here: IDWP videos.
Please visit www.facebook.com/declarepeace and "Like" the page. Share with your friends. If you would like to promote this web site, please do so. We are happy to provide a free link to your appropriate, lawful business or entity on our Wall of Support page.
It requires no reciprocity. Just send us a message on our Facebook page and provide your URL; we will do the rest. Help us create the largest art installation in the history of the world, installed, for the first time ever, in the consciousness of humanity. Help us demonstrate the power of collective intention.
Please come back from time to time. The official I Declare World Peace hashtag is #IDWP
Above, our trademarked logo for non-commercial, display purposes only, to download: IDWP Display Logo.