I DECLARE WORLD PEACE
The Project
Welcome to the I Declare World Peace project
The I Declare World Peace project, founded in 2010, is a power-of-intention worldwide art experiment that seeks to spread the phrase "I Declare World Peace". The purpose of the project is to raise global peace consciousness.
Participation in the I Declare World Peace project is simple, free and at will. It requires no registration or "membership". We accept no donations and do not create or sell mailing lists. We fund the project from our own pockets and from the sale of self-promotional items, as depicted on the "products" page of this site.
In addition to efforts to promote ourselves, we have entered, and will continue to enter into cross-promotional relationships with other groups and initiatives that promote equality, justice, kindness and related endeavors. Some of these relationships are reported in the press releases displayed on the "Press & Media" page of this site. We morally support and encourage the efforts and goals of every other well-intentioned peace promoting endeavor on the planet. Wherever and however you can think to share the phrase "I Declare World Peace", as well as our hashtag #IDWP, please do so. We explain the value of this exercise below.
We agree with John F. Kennedy and other enlightened thinkers that world peace is possible. In fact, we believe that world peace can be achieved in our lifetime. So to help nurture pro-peace thinking and to raise global peace consciousness, as well as to lubricate the process of achieving peace, please post the phrase "I Declare World Peace" wherever you can on social media, and consider wearing an I Declare World Peace T-shirt when you are away from your computer. Peace, after all, is up to each of us. Thank you.
The Art
In 2005, the artists Christo and Jeanne-Claude brought "The Gates" to Central Park in New York City. A giant art installation of 7,500 orange fabric gates, 16 feet high (4.87 m) of varying widths, lined 23 miles (36.8 km) of footpaths in the park. While each individual Gate was beautiful in itself, the effect of the whole array of Gates was dramatically more engaging and powerful. It created a compelling dynamic involving the observer, the thing being observed and the process of observation.
The Gates installation in 2005 was the realization of a thought, an idea, hatched by the artists back in 1979. In 2010, five years after we saw The Gates, having been quite inspired by it, we too hatched a thought, an idea. Our idea was for an installation art project unlike anything that ever existed, a project only made possible for the first time in history by the existence and exponential growth of Internet-based social media and electronic communication.
Our thought, our idea, was to create the largest art installation ever, to be installed not in some physical location, or even in cyberspace but rather within the consciousness of every person on the planet, a sort of "Gates of the Mind". Each person would hold a "flag" in his or her mind, which collectively would change the future history of the world. The mental "flag" is the phrase I Declare World Peace, expressed in the language of the thinker.
As we have since we started in 2010, we will continue, over the coming weeks, months and years, to encourage people to type, recite, sing or otherwise publish the affirmation "I Declare World Peace" on the "walls" of their various and favorite social media, such as Facebook, Twitter, Instagram, Pinterest, YouTube, LinkedIn and whatever new social media come into existence. We especially encourage people to make short I Declare World Peace videos, as explained on the "Videos" page of this site.
The SCIENCE
One of the intriguing premises of quantum theory, which seems to blend physics with metaphysics, states that by the very act of watching, the observer, through the process of observation, affects the object being observed. In a study reported in Nature (Vol. 391, pp. 871-874), researchers demonstrated how a beam of electrons is affected by the act of being observed. The experiment showed that the more "watching," the greater the observer's influence on what happens.
This can be viewed to suggest that consciousness, or the conscious mind, can affect phenomenal reality. In other words, thoughts can affect the physical world. Our own thoughts. What we think affects the world. Now, we claim no deep comprehension of quantum physics, and we realize we may be oversimplifying, but philosophers, mystics and wise folks through the centuries have claimed the same thing.
SO HERE'S THE STORY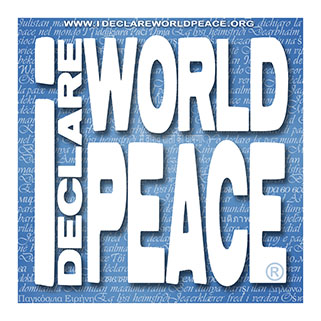 In general, goals are reached by taking action. All action proceeds from thought. The completion of a skyscraper results from the action of construction, which in turn results from the thoughts of the architects and builders.
In the same way, the ability to achieve peace in our lifetime is simply a direct function of the conscious thinking of people. Just as a war is commenced by declaration based on the thinking of certain people, peace requires a declaration based on the thinking of certain people. All group thinking is based on the thinking of the individuals in the group.
There are approximately 195 countries in the world. Assume there are 200 major "violent" separatist or opposition groups. If the top 5 ranking people in each government and in each of those separatist groups all declared peace, just 2,000 people, there would be peace. And those 2,000 would have no choice but to declare peace if substantial numbers of their "constituents" declared peace. In short, world peace is entirely dependent on what you, yes you personally, think.
HOW YOU CAN PARTICIPATE
Our purpose is to circulate the phrase "I Declare World Peace" as widely as possible.  We rely on YOUR creativity to come up with ways to do that.  Some ideas are: (i) periodically post it with hashtag #IDWP on social media – Facebook, Twitter and so on – retweet where possible; (ii) print out our display logo (shown above) on a piece of any size photo paper, take a selfie holding it, and send it to us on our Facebook page or tweet it or post it on Instagram; (iii) place a print-out of our display logo on the rear deck of your car, visible through the rear window; (iv) make an I Declare World Peace video (our favorite method); (v) include the  phrase and hashtag #IDWP in the footer of your emails; (vi) take a selfie wearing one of our beautifully designed t-shirts or drinking from one of our very cool looking mugs (vii) include the phrase I Declare World Peace in a song or book or article you write – even a glancing mention will help; (viii) write our url – www.ideclareworldpeace.org – on the credit card receipts at restaurants; (ix) tell your friends, and (x) any other creative means that comes to your mind.
As for making an I Declare World Peace video, here are some examples to guide you: IDWP videos. By mid-2017 we received over 350 such videos from people in 41 countries around the world. We understand it takes some courage to do, but we implore you to add your meaningful voice to this beautiful chorus.
Please visit www.facebook.com/declarepeace and "Like" the page. We are happy to promote your initiative, business, project, song, book or any lawful business (no pornography, no weapons) by providing a free link to your web site or blog (no social media sites) on the "Wall of Support" page on this site. We do not require reciprocity. Just message us at our Facebook page and provide your URL; we will do the rest.
Help create the largest art installation in the history of the world, installed, for the first time ever, in the consciousness of humanity. Help demonstrate the power of collective intention. At the end of May, 2017, the project had approximately 232,000 Twitter followers, growing at around 1,300 per month, plus many thousands more on Facebook, Instagram and Pinterest. Please join them. Together we can harness the power of social media to raise global peace consciousness. We thank you in advance from our hearts.
Above, our trademarked logo for non-commercial, display purposes only, to download: IDWP Display Logo.